Family business Shade 'n' Sails has got you covered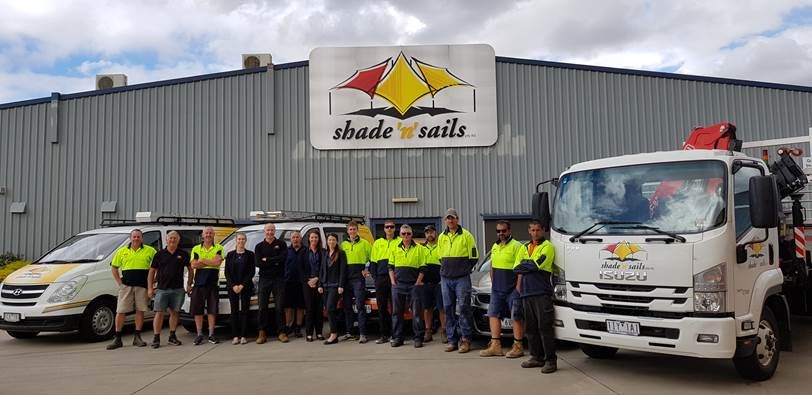 With over 20 years as a professional in providing customised shade solutions, Shade 'n' Sails has been successfully designing, manufacturing, supplying and installing quality outdoor shade products throughout Victoria and across the world.
FEATURING a product range that includes Ziptrak Blinds, sun blinds, café blinds, shade sails, shade structures, umbrellas and more, Shade 'n' Sails caters for the residential, educational and commercial sectors providing clients with both shade and waterproof options.
In 1999 company directors Neil Glover and Trevor Hocking took a huge risk leaving steady jobs to follow their vision and create a business they could call their own.
Neither had a business degree, however relied on a common-sense approach and strong work ethic to build a successful company.
Initially focussing on shade sails, the business branched out to also manufacture outdoor blinds and awnings within a few years due to continuous customer requests for these products. Many achievements have been made along the way, from the first overseas customer, to continually expanding both local and international retailers of the products, and the natural growth has allowed Shade 'n' Sails to increasingly employ new staff.
Growing to its current staff of 23, the low staff turnover across the years has had a positive impact on the business, there is a committed team of people working together to develop the business and achieve the desired results for the customers. Staff training and continual skill development work is carried out to maintain a high level of quality and experience across all areas, which is important to both directors.
Shade 'n' Sails is a very family orientated business with Neil's daughters Kirsten and Brittney as floor manager and office manager, while son-in-law Daniel working within the manufacturing department. Trevor's brother Murray is the sales manager, while operations manager Lyle Greenwood's son Mark works in the metal fabrication and drafting department.
Over the years Shade 'n' Sails has moved to three different premises and extended the factory at the current location twice. Work is about to begin on a custom purpose-built manufacturing facility which will provide the company with room to accommodate for future growth within the business.
Since Shade 'N' Sails began, technical advancements have greatly increased the company's capabilities.
Computerised plotting and cutting machines that make processes more efficient and less time consuming, an increase in the range of fabrics, an emphasis on end-of-life recycling, laser technology that assists with the marking out of shade sails, and greater options to fully customise products for each individual need.
Both Trevor and Neil look forward to Shade 'n' Sails continuing to offer that 'old fashioned' service they are renowned for and ensuring the high-quality products meet our customers' individual needs.