Huge line-up for Port Fairy Folk Festival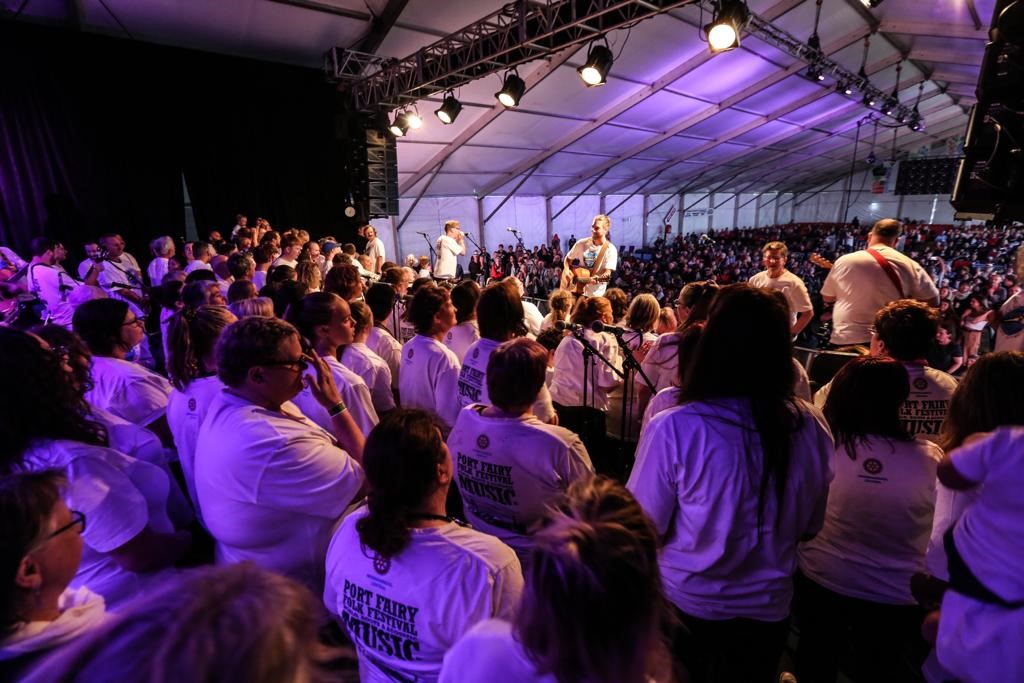 This March long weekend, thousands of music lovers will descend upon the Victorian scenic coastal town of Port Fairy for the 44th annual Folk Festival.
The 2020 line-up features international and local artists representing folk music from around the world.
Program Director Caroline Moore said the 44th Port Fairy Folk Festival will be a splendid mix of brilliant music, great conversations, workshops, collaborations and surprises.
"What a line-up we have in store," she said. "I am delighted to announce renowned and wonderful emerging artists for our next festival. It'll also be filled with special events, family activities, and non-stop musical entertainment. This is a festival for every music lover – from the young to the young at heart.''
Making their Port Fairy Folk Festival debut in 2020 are The Blind Boys of Alabama (USA), Benny Walker, Bob Jensen (CAN), The Burning Hell (CAN), Chitra, Coig (CAN), Cool Out Sun, Emily Wurramara, Fara (UK), Flacco & Sandman, Flats & Sharps (ENG), Grace Petrie (ENG), Hubert Francis (CAN), Ian Sherwood (CAN), The Jellyman's Daughter (SCO), John Smith (ENG), Judith Owen (WALES), The Langan Band (SCO), Michael Veitch, Oliver The Crow (USA), Ruby Gill, Sibusile Xaba (South Africa), The Small Glories (CAN), Patty Griffin (USA), Rhiannon Giddens (USA) & Francesco Turrisi (ITA), Saije, Startijenn (FRA), Susan O'Neill (IRL), This Way North, William Crighton, Will Kimbrough (USA), Ye Vagabonds (IRL), and YID!.
For those festival goers who want to kick back and watch, listen and laugh at the end of a night on Saturday and Sunday, the festival is tickled pink to be presenting two late night screenings of A Mighty Wind, and welcome the one and only Harry Shearer to Port Fairy, who will introduce this iconic folk mockumentary, and perhaps segue in to Spinal Tap and Simpsons stories as well!
An iconic tradition of Port Fairy are the themed concerts, and in 2020 the festival is presenting First Nations in Songs & Stories. Hosted by award winning Gina Williams, this event will feature First Nations artists Archie Roach, Ego Lemos (TL), Hubert Francis (CAN) and Mihirangi Fleming (NZ), and explore in conversation and in song, the similarities and differences of being a First Nation artist, the path to reconciliation and the role the arts and music can play in aspirations for the future.
Other themed concerts include North East x South West, Meet The Guests, The Guitarists, Song Catchers, Blues & Roots In The Round, and in 2020 Women Out Loud will hosted by YolanDa Brown, and of course let's not forget the Big Sunday Sing Out!
Families will be entertained, especially with free access for children aged 13 and under, with a curated children's program including The Teeny Tiny Stevies, and a special event featuring British saxophonist and children's television presenter YolanDa Brown and her Band Jam, plus workshops galore!
Tickets to the Port Fairy Folk Festival are available now at portfairyfolkfestival.com.
The 44th Port Fairy Folk Festival takes place on the Labour Day Long Weekend from 6-9 March 2020, in Port Fairy, Victoria.