Heritage event launches gardens group
A NEWLY formed group, Ballarat East Town Hall Gardens Revitalisation Group, will be showcasing the history of Ballarat East throughout the city's upcoming Heritage Festival.
The group will host a range of displays and activities at Barkly Square in what member John Dyke said will serve as the first steps of their main goal.
"We've been trying restore the gardens around this precinct for a while now, and everyone is starting to understand the special quality of the former town hall gardens," he said.
"Our plans will stretch to include Specimen Vale and Botanica Reserve, and we saw this event as an opportunity to get the message out that this place is really significant and special."
The group consists of representatives from BGT Jobs and Training, Gordon Tafe, Ballarat East Neighbourhood House and the City of Ballarat.
The program will include a garden tour around Barkly Square, displays and talks by florists Alan Randell Smith and Kevin Moneghetti as well as non-profit Food Is Free's Lou Ridsdale.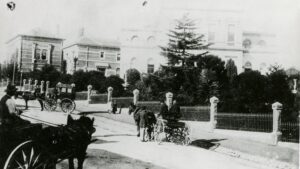 A model replica of Ballarat East's Town Hall constructed by Men's Shed member James Tournier will be displayed alongside a photographic exhibition including over 100 pictures and documents.
The photos were collated by Paul Greig, who said the works depict the suburb's early history from 1857 through to its amalgamation with the city's west in 1921.
"This precinct is very much a part of the fabric of the East and these pictures will show that," he said.
"There's a very rich history here, between the Chinese relationship, and the miners' lodgings. Things like that are just fascinating."
Mr Dyke said if the group's Ballarat Heritage Festival involvement is successful, they will consider plans to hold an annual garden show out of the precinct.
The events are free and will take place on Saturday, 21 May and Sunday, 22 May.