Geelong Yacht Club sails away with awards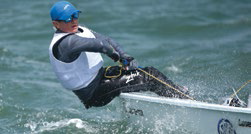 THE Royal Geelong Yacht Club's (RGYC) Michael Parks was named Victorian Junior Sailor of the year at the Victorian Sailing Awards on June 1.
More than 200 members representing 50 clubs from across the state gathered at the Sandringham Yacht Club to receive accolades in their respective categories.
The RGYC also took out the 2017/2018 Media and Publicity Award in recognition of their extensive coverage of the Festival of Sails, Wooden Boat Festival and RGYC sailing programs.
Parks, a member of the Barwon Sports Academy, had been nominated three times before but had never won so was ecstatic to take out the honours. He was also selected to the 2018 Victorian Sailing Team in the Laser class, which was announced during the ceremony.
Four other RGYC sailors were recognised at the awards night, with Michael and Steven Case taking first place in the Victorian Sailing Cup (29er class) and Elliot Hughes and William Farnell also finishing in first place in the Victorian Sailing Cup (International Cadet class).
Parks also picked up a first place in the Victorian Sailing Cup in the Laser 4.7 class. The 16-year-old already has an impressive sailing resume, becoming a world champion at the age of 14 with the ISAF World Team Racing Championship.
He will again compete on the world stage this coming July in the Laser 4.7 class in Gdynia, Poland.
The Festival of Sails celebrated 175 years in January, while the Wooden Boat Festival enjoyed significantly increased crowds over the March Labour Day long weekend.
The RGYC was visited by Prime Minister Malcolm Turnbull in January, increasing the profile of the club and its fundamental role in revitalising the waterfront. RGYC Commodore John Kint was delighted to accept the publicity award on Friday night on behalf of the club.
"I am thrilled that RGYC has received this recognition. After winning Victorian Yacht Club of the Year and Discover Sailing Centre of the Year at last year's awards, it is wonderful to see that our Club continues to excel," he said.
"We are fortunate to partner with some fantastic local Geelong businesses who assist us with our public relations, digital media strategy and promotion, and I would like to thank Passionfolk and McCo Group for their work and creative ideas that have contributed to RGYC winning this Media and Publicity Award."