Christmas cards to send support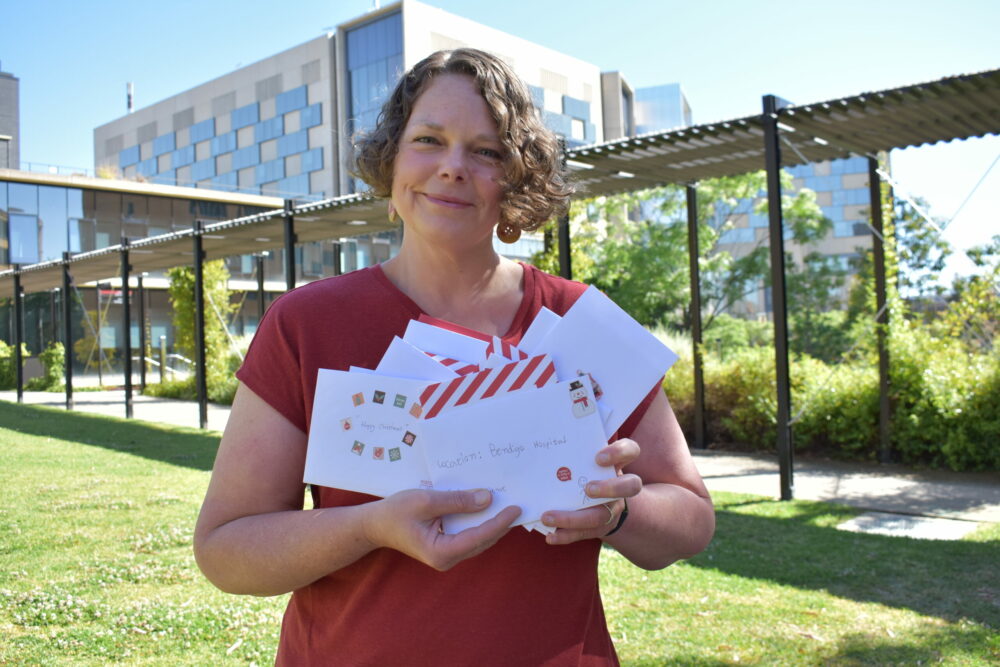 DANIELA Bradley is bringing a new initiative to Bendigo Health to let those feeling isolated in hospital know they're not forgotten at Christmas time.
The mental health consumer consultant is launching a December Cards program so people can write a card or letter for someone staying on the psychiatric inpatient ward over the festive season.
"At the moment because of COVID restrictions you cannot have any visitors or leave from most of the wards so it can be really easy for people who are stuck on the psych ward and quite unwell to feel like the whole world is celebrating and they're just left out," Ms Bradley said.
"The initiative is really about showing those people that we care, we're thinking about them and also working on the stigma that there still is around mental health."
The project was founded in the US three years ago by sisters Jessica Lowell Mason and Melissa Bennet, but it's the first time it's making an appearance at Bendigo Health.
Having stayed on a psych ward herself due to mental health issues, Ms Bradley said receiving a card could make a tremendous amount of difference for people at what can be a particularly difficult time of year.
"On wards where we deal with physical illnesses, you see cards and flowers but on the psych ward you don't usually see this," she said.
"I have spoken to patients who have spent Christmas and New Year's on the wards and I explained the project to them, and they said it would've meant so much to them because they felt like the world was partying and nobody cared about them.
"When you're in hospital at that time and you're not well, to then receive a token of good will saying 'I see that you must be going through a hard time and I'm thinking of you', it would really bring some hope to the people and let them know that they matter regardless of not being well or their mental health struggles."
Ms Bradley said people should remember to be respectful of others' struggles when writing a card and be sure not to minimise their experience.
"If somebody doesn't know what to write, it's fine to even just say 'I'm thinking of you at Christmas and I hope it's as good as it can be' or 'somebody in the community is thinking about you'," she said.
For details on how to participate, visit bit.ly/3lflA3U or speak to Ms Bradley by calling the mental health professional development unit on 5454 7612.