Star-studded opening for Elvis exhibition
ELVIS Presley may have feared being forgotten after his death, but forty-five years on, fans new and old have flocked to the Bendigo Art Gallery to get a glimpse of all the glitz and glamour that remains of the rock n roll king.
At the opening of the Elvis: Direct from Graceland exhibition last week, Priscilla Presley reminisced on her life with her late ex-husband.
"He didn't get to tour a lot of the places he wanted to go, and Australia was one of them. I think he'd be excited for all of you to share his life and the things that he did, the clothes that he wore… and all the things that meant something to him," she said.
"He was a very giving person, not materialistic, had beautiful things for people to come and enjoy [and] look at."
Priscilla has been instrumental in establishing Elvis' residence Graceland as the second most visited historic home in the US after the White House, welcoming some 20 million people in four decades.
"When I walked around [the Bendigo Art Gallery exhibition] I got a little teary eyed actually because this is everything he wanted, to be able to share, to be able to be remembered and it's a dream come true for me to be a part of that," she said.
"This is very sentimental to me, it's very difficult.
"Our old museum, as we call it, there's so many things there that really touch me. Do I get emotional? Yeah, I do because he was a truly special human being. There is no one who can match Elvis Presley."
The exhibition showcases some 300 items from the over 1.5 million-strong Graceland archives.
Many possessions like clothes, furniture and documents were kept in storage by Elvis' father Vernon who, after living in poverty through the Great Depression, feared the fame and fortune amassed by his son might one day come to an end and wanted his family to be prepared.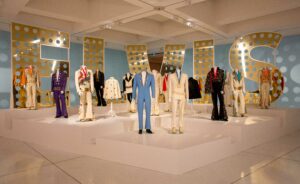 Vice president of archives and exhibitions at Elvis Presley Enterprises, Angie Marchese, said it was "absolutely amazing" to fulfill Aussie Elvis fans' dreams to see the king touch down in the country after being approached by the Bendigo Art Gallery three years ago.
"First of all, I was like 'Bendigo? Where's Bendigo?'. So, I started doing some research and I was so impressed with the exhibits and the work that they're doing here, from Marylin Monroe to Grace Kelly to the Edith Head exhibit, all of it is top notch. It seemed like the perfect partnership to bring Elvis to Australia," she said.
While the exhibition features "wow-factor" pieces like Elvis' 1960 MG convertible from his musical film Blue Hawaii, Ms Marchese said it also includes more intimate items not to be overlooked.
"My favourite item is actually Elvis' wallet and that's because it's so personal. If you were able to go through it, you would see a picture of him and Lisa," she said.
"I can just imagine someone asking him about his daughter and him going 'oh, you wanna see a picture of her?', or there's a movie ticket stub in there.
"It personalises him and makes him one of us."
Gallery director Jessica Bridgfoot said curators were determined to secure particular items for a showstopping event that would aid the region's COVID-19 recovery, including the tuxedo and dress worn by Elvis and Priscilla for their wedding in 1967.
"To be able to open up an exhibition like this just as the world is opening up is really a remarkable feeling," she said.
"We've already been rewarded for our efforts with the opening weekend being sold out [and] ticket sales are going really strong.
"We're expecting it to be quite a significant amount of people [attending] and for it to be a big part of the recovery and economic stimulus for Bendigo.
"We know that shows like this can generate up to $16 million in spending so it's really important for us to play our part in the recovery, and what a wonderful way to do it."