Suburb by suburb snapshot – Eaglehawk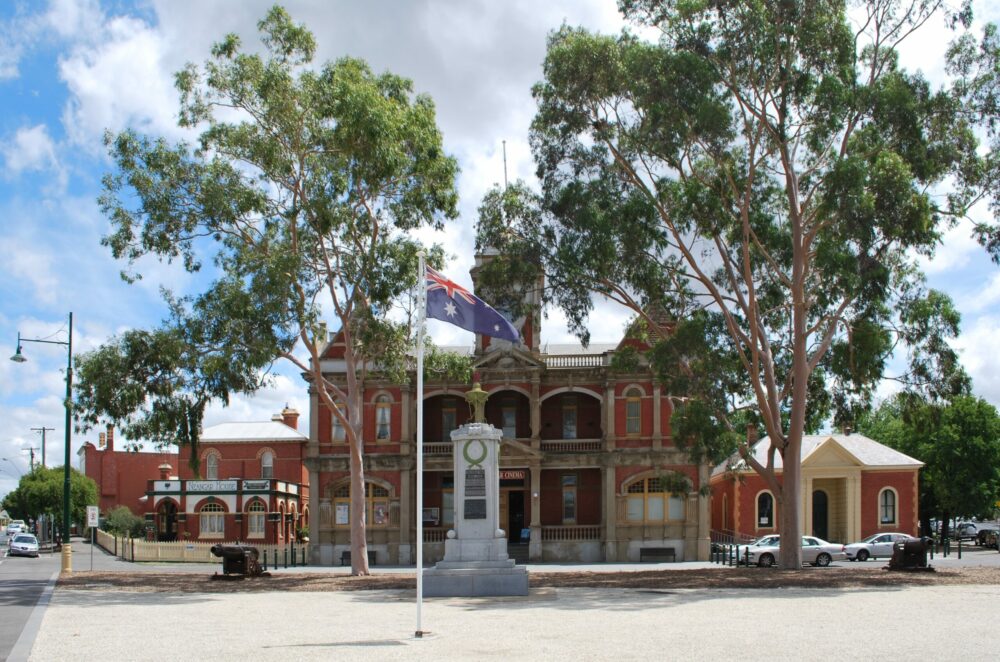 The size of Eaglehawk is approximately 14.5 square kilometres and has four parks covering nearly 2.1 per cent of total area.
The population of Eaglehawk in 2011 was 4809 people and by the 2016 Census the population was 5691 showing growth of 18.3 per cent in the area during that time.
Eaglehawk is a residential suburb in the north-west of urban Bendigo with its town centre five kilometres from the centre of town.
Gold was discovered at Bendigo in October 1851 and the gold-bearing land extended several kilometres north and north-west of Bendigo, beyond Eaglehawk.
California Gully and Sailors Gully recorded gold finds in the first half of 1852, along with Eaglehawk.
In 1854 town lots were surveyed and sold along High Street, Eaglehawk, where it divides into Sailors Gully and Pegleg Gully Roads (i.e., Pyramid Hill Road and Loddon Valley Highway).
A National school was opened in 1854 on the site occupied by the present primary school. Two Methodist churches were opened the following year, and further north at Sailors Gully a second school was opened (now Eaglehawk North school).
The 1860s were a period of rapid growth, but with mostly short-lived or hastily run up buildings but the next two decades saw more substantial developments.
Eaglehawk borough was created on 29 July 1862 and by the end of the decade there were also Anglican and Presbyterian churches and a mechanics' institute.
Gas was laid on in 1866, the railway from Bendigo to Bridgewater opened in 1876.
In 1882 Eaglehawk became a railway junction when the line to Raywood was opened.
The 1870s and 80s also saw the creation of a botanical garden (Canterbury Park) and the adjoining Lake Neangar, the extravagantly designed primary school (1884) and the first tramway.
A new town hall was built in 1901 and the trams were electrified in 1903.
At about that time mining employment and the borough's population began to decline, more than halving between the 1901 and 1933 censuses.
Minor population growth occurred in the 1960s, a high school was opened in 1964 and the tramline closed in 1973.
CoreLogic data indicates that the predominant age group in Eaglehawk is 0-9 years with households being primarily young families and childless couples, and are likely to be repaying $1000 – $1399 per month on mortgages. In general, people in Eaglehawk work in a trades occupation.
In 2011, 67.1 per cent of the homes in Eaglehawk were owner-occupied compared with 65.7 per cent in 2016.
AGENT PERSPECTIVE:
"Eaglehawk has always had a special place in my heart as an agent within the region, I've always looked at all it has to offer and thought the suburb has been undervalued for the longest time.
"It has been interesting to watch the gentrification the suburb has undergone over the past few years.
"The suburb has an incredibly loyal following, a lot of my clients I deal with have lived in the suburb since they were children.
"This can be felt when you walk amongst the crowd in High Street, you will always see a familiar face and be greeted with a hello and a handshake.
"This, coupled with new infrastructure going into the area and upgrades to assisted amenities has placed the suburb on the map for investors and first home owners.
"With increased competition comes increased prices and Eaglehawk is no exception, with a 13.9 per cent rise in median sales price in 2020 alone.
"It is becoming clear that the suburb and all it has to offer is quickly becoming one of the best places to invest in Bendigo.
"The pandemic has been game changing for most industries for better and worse but with more people being given the green light to work from home permanently it has allowed Melbourne residents to move to the Bendigo Region and continue their work remotely.
"A lot of these Melbourne buyers are now choosing to call Eaglehawk home after the recent renovation on the Eaglehawk Train Station and more services being available from there.
"Some prices achieved in recent times have surprised even myself as an agent within the area.
"With some prices that have been achieved for my clients in the area, it has been truly life changing for them."
Tom Sayers – Senior Sales Associate – Ray White Bendigo
TIDBIT:
Eaglehawk borough was united with Bendigo and Marong Rural cities and Huntly and Strathfieldsaye shires on 7 April 1994 to form Greater Bendigo city
Population: 5691
Male: 48.5%
Female: 51.5%
Median age: 39
5-year population change: 18.1%
House median value: $378,000
Change in Median Price: (5yrs) is 36.5%
Median asking rent per week: $330
Average length of ownership: 11 years
Owner occupiers:68%
Renters: 32%
House median sale price:
February 2021: $370,00
February 2020: $321,000
February 2019: $310,000
February 2018: $309,000
February 2017: $275,000
House sales per annum:
Period ending February 2021: 115
Period ending February 2020: 107
Land median sale price:
February 2021: $141,000
February 2020: $126,000
Land sales per annum:
Period ending February 2021: 23
Period ending February 2020: 9