Deep dive into the blue
Discovering what lies beneath the ocean's surface has been central to James Cini's life for as long as he can remember.
The youngest of three energetic brothers, James was four years old when he first pulled on a snorkel and mask to begin exploring the rockpools of his coastal backyard around Anglesea.
"My dad is of Maltese background and when Mum had pretty much had enough of us, she would say 'take the boys out' and he'd end up taking all three of us to the rockpools and all the beaches at the back of the Surf Coast."
A deep love of the ocean ensued from there.
James is now a qualified freediving and spearfishing instructor who runs Freedive Geelong, as well as sharing his undersea adventures through his Instagram accounts @gnomad_ocean and @gnomad_ocean_art.
It is a passion he balances with his full-time career as a paramedic.
James completed his first freediving course about 10 years ago and then spent three to four years travelling to the Philippines and Indonesia to work with top instructors, with a view to bringing those skills back to Australia and passing them on.
To date he has taught about 80 students and demand continues to escalate.
"There is a real buzz about it and it's really exciting to be involved in it and promoting our coast," James enthuses.
"I'm very passionate about the ocean and my motivation is sharing what we have here.
"The diving in Victoria is absolutely stunning. There is a really rich marine life environment."
James says a diverse range of people are enrolling in the courses, with ages ranging from teenagers through to those in their 60s.
"The least common person I see come through is someone who wants to be a competitive freediver," he says, adding that tradies, outdoors lovers and surfers are among those signing up.
"Surfers are wanting to add an extra skill to what they can do and lots of them say 'I've got nothing to do when it's flat, I've been looking at your footage and videos and that looks amazing'.
"They see that it's in their own backyard and they want to learn how to do it.
"I'll take surfers to spots they've been surfing forever and then you put their face in the water and they go 'holy crap, this is incredible, I never expected to see that' and there's this massive buzz and you see this giant smile on their face. It's awesome."
James says the majority of interest is from women which he sees as great for the sport.
"Quite surprisingly a lot of them want to move towards spearfishing and that sustainable approach to being able to go into the ocean and get their own food and harvest.
"So that's really inspiring."
He says there are a few things he particularly loves about the freediving experience.
"Personal growth and development," he says without hesitation.
"There is always a boundary that you won't be able to go past and that really teaches you about yourself – whatever that is.
"It might be stress, it might be anxiety, it might be something physical that is holding you back from moving forward.
"There is a self-realisation which leads to self-growth."
Escapism and the ability to switch off from everything else is another huge upside, he says.
"Being a paramedic is an awesome job, I absolutely love it, but it's important to have something that is not as involved as being a paramedic is.
"As soon as I sink beneath the water, the world is shut out. There's that real attraction of going under the water and interacting with marine life and being in an environment where the phone's not ringing, there is nothing that can distract you from that moment that you are in.
"If you are diving down a line that's set to 50-60m deep you'll hit a stage where you hit this freefall and that's when you become absolutely weightless and the diving becomes effortless and you are just sinking very, very slowly.
"There's that realisation that you are in a blue desert – a blue space that is just you and the environment and there is nothing that can distract you from that."
When it comes to safety, James is eager to spread the message that you should never dive alone.
"The other thing would be to make sure that your buddy, the person you are diving with, is able to recognise and respond to you if you get in trouble," he warns.
"The research I have done shows that over 70 per cent of people who have got into trouble have been in the presence of someone else who has just been unable to help them.
"If you are going out with your buddy to go diving, make sure they have got the capacity to dive a couple of metres under the water to help you."
James, who recently moved from Jan Juc to Point Lonsdale, says he feels energised at the prospect of introducing more people to the joys of exploring the coastline he loves and respects so much.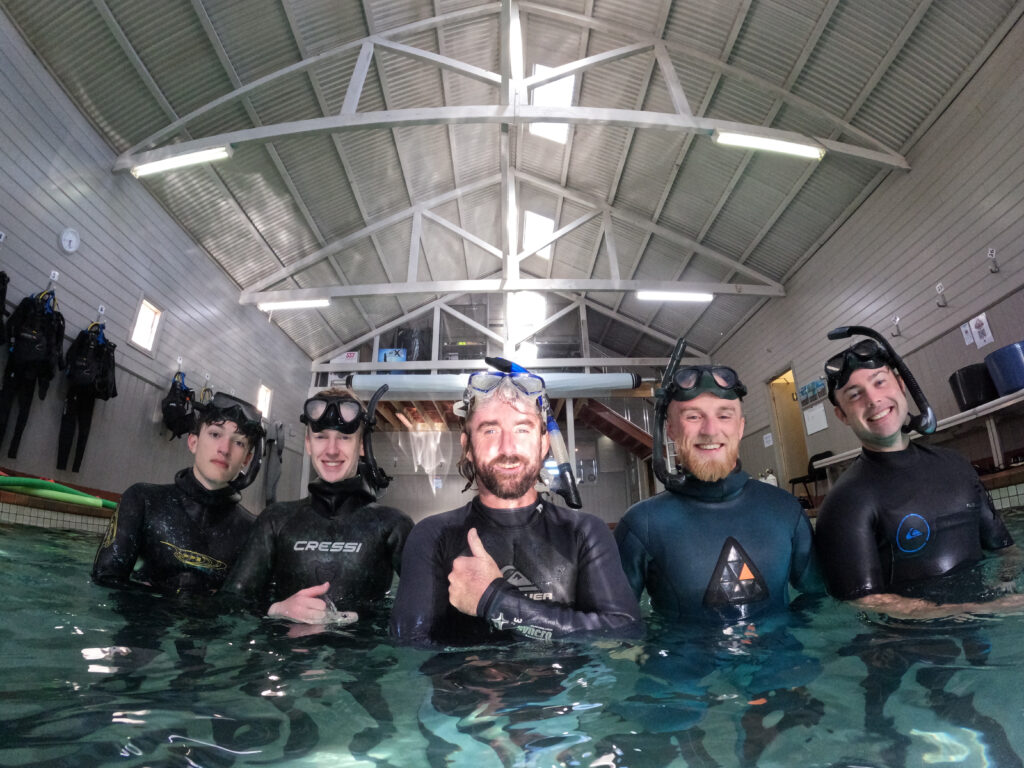 "I'm one of the ones to have started this endeavour in Victoria and it is great to see it grow, to see people get excited about it.
"I want to show them what's underneath the water so they can see how amazing it is and they can protect it themselves in the future.
"The underlying theme is that people love the ocean.
"People just want to be in the water and they want to do it with as little environmental impact as they can and just enjoy it."
To find out more about Freedive Geelong courses head to their website and follow James' journey on Instagram @gnomad_ocean,
@gnomad_ocean_art and @freedivegeelong.