Community rallies to help bring Rosie home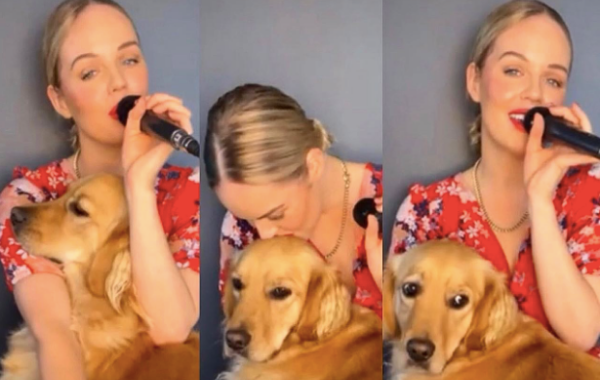 A HUGE community effort has ensured 'Rosie' the golden retriever was found safe and well three days after she ran away from her owners on a walk in the You Yangs.
When Rosie's owner, Ocean Grove singer Kim Cooper, posted on social media asking for help to find her beloved pet and offering a $1,000 reward, the post quickly received over 4,000 shares.
Kim said it was ultimately the community's help that brought Rosie home safe.
"I honestly couldn't believe it. People were so concerned for our little girl, so invested in her welfare and wanting to get her reunited with us. It was so beautiful, really touching." Kim said.
"Just the amount of messages we received of people saying they were going to look for her."
Kim and her partner had been walking with Rosie in the You Yangs on Mother's Day when the golden retriever ran off unexpectedly.
"My partner and I stayed at the You Yangs until the sun went down, enlisting anyone, asking everyone to keep an eye out for her … but there was just no sign of her anywhere."
Kim said right from the start strangers were compassionate and helped in the search.
"There was a lovely woman who saw me looking for Rosie initially, going up and down the road looking for her."
Eventually, Kim left a jumper on the track with a note and her number, hoping Rosie might pick up on the scent and come back to the jumper.
And after calling the vet, Kim reached out to ask for help from the local community online and she said she was given great advice from the online community to ring the pet detectives Authur & Co who helped in the search and even helped arrange thermal drones to look for Rosie in the You Yangs.
"I just felt so supported, just so grateful for all the help, I really think it made the difference between us getting her back and us not.
"It was just the power of people caring really. There was nothing my sister or I could have done, it was really just the power of the community caring.
"There were so many eyes on the ground, so many people looking for her. We needed it."
Finally, on Wednesday morning – three days after Rosie ran off – a local couple walking in the You Yangs found her, snuggled up by Kim's jumper.
For a moment they assumed the dog's owner must be on a walk, but then they vaguely remembered seeing social media posts about a lost dog in the You Yangs.
"That's what made them take a second look," Kim said.
"They found Rosie snuggled up next to my jumper. That wouldn't have happened if it wasn't for the power of social media."
Kim said Rosie was extra cuddly on the first night, but otherwise completely well.
"We received so many beautiful messages when she was found, people saying they were crying when they heard she was found. I think people need some good news, and it was so lovely for Rosie to be that good news for them now."