Jan Juc's India Robinson lines up for first Bells Pro
When newly minted Jan Juc surf pro India Robinson paddles out for her maiden heat at the Rip Curl Pro Bells Beach in a few days' time, it'll be yet another first for the 21-year-old who only qualified for the Championship Tour (CT) last December.
Already this year, in her opening CT event, she competed in the first ever women's pro event at the notoriously heavy Pipeline in Hawaii.
"I've always seen us women as more than capable to surf these waves … we all made history together … it's something I won't forget," Robinson said.
The next list tick came when she cracked the top 10 CT ranking in early 2022 – she's now #8 – and from this weekend will have a chance to chalk a few more ones on the board.
"There has never been a local girl to win Bells," Robinson said of the longest running event in competitive surfing.
"It feels pretty surreal, honestly, because I've been going down to Bells since I was eight, board carting for all the pros.
"I'd put Bells and Winki in my favourite top two spots … it's where I've grown up and where I live, feels like home being in the water there."

Being back on home turf has all the benefits one would expect, including reconnecting with family and friends after months on tour.
"For them it's one of the coolest things that they will witness in my career, having my brothers and family down there, it's going to be pretty cool … to be on the beach as part of the community supporting me.
"I love the routine …I'm surfing Bells as much as I can, in the gym, seeing the physio, seeing all my friends, it's been a while, just having fun with it all," she said of her preparation for the Pro Bells.
It's also a chance to get match fit, after copping several recent knocks to the head that rank as some of the worst injuries she's sustained, Robinson is still on the mend.
"Last year I suffered two concussions within two months apart, the first in Potsville (NSW), the second I got a board to my temple at Pipe during qualifying."
Acting on medical advice, she decided to pull the pin on Pipeline after her first heats.
"It definitely wasn't how I wanted to start my career on the CT, having to withdraw was one of the hardest decisions I've ever had to make.

"But when you have a bunch of specialists telling you it's too risky to go out and potentially jeopardise the rest of my career, I had to listen to them. I was giving myself the opportunity to be fit and healthy for Sunset."
It shows a level of maturity, and understanding of the need for self-preservation, that some at Robinson's age sometimes struggle with; and it paid off, placing fifth in the next CT event at Sunset Beach in Oahu, Hawaii.
"I'm still not 100 per cent, it's tricky, with head injuries it's probably best to rest, but with the sport I'm into that's not really an option. I wear a helmet most of the time to make sure I don't suffer another one, I'm just taking care of myself and making sure I do all the right things. I've got a really great team."
Aided by friends, family, local knowledge, and a good team that she often gives a shout out to, Robinson has another strength that helps explain why she's rising to the top; self-belief through putting in work.
"I've been putting in a lot of hours at Bells for most of my life, now I'm just fine-tuning equipment and boards, having fun, staying fit and healthy and looking after my head.
"I always wanted to [compete at Bells] but it was almost like it would never come true.
"It was a dream in the background, but I was committed to training as hard as I could, qualifying, and with that comes with being in the Rip Curl Pro.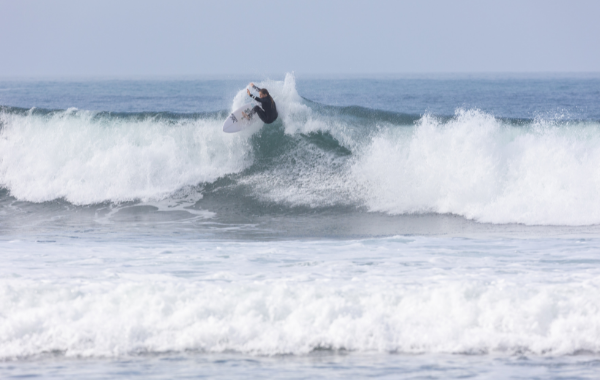 "Once I qualified, I had this level of respect for myself that I was good enough, so went into this year thinking I can make the top five and get a world title.
"I'm definitely striving to get further up in the rankings."
It's a journey that she makes sure to stop along the way of, to share with others, particularly her local community and young women.
"The message I hope to send to all the young girls is to keep going for what you believe in, chasing their dreams, don't lose yourself."
Robinson will join France's Johanne Defay and Hawaii's Luana Silva in the lineup for Heat 5 of the Opening Round.
For more info visit www.worldsurfleague.com/events/2022/mct/3891/rip-curl-pro-bells-beach