Roo Run Return has competitors bounding around Roadknight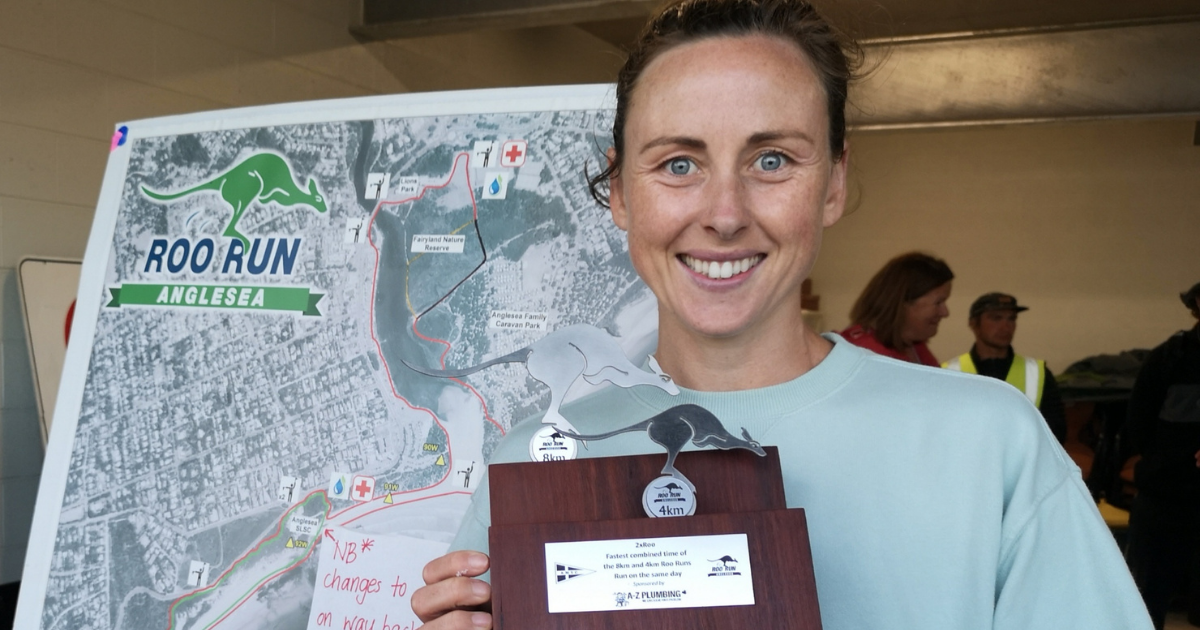 ONE of the Surf Coast's most popular races took to Point Roadknight last Monday morning hosted by the Anglesea Motor Yacht Club after a year off due to COVID-19.
The return of the Anglesea Roo Run Race was met with approximately 600 competitors across all event categories from the 8km and 4km Roo Runs to the Grommet Gallop and Starfish Nippers Run.
"From my point of view, it was a great success again, and given we had the year off last year, it was great to see everybody come back and in high spirits as well," Anglesea Motor Yacht Club president Wes Smith said.
"Our trail run was a great way to finish off the year, because it took in the surrounding clifftops and the coastal walking tracks. It was just such a beautiful event."
Julian Spence was again the winner of the headliner 8km Roo Run for the men's category with a final time of 26 minutes and 35 second, but Spence had gun youngster Ben Ludbrook hot on his heels who finished with a time of 26 minutes and 44 seconds.
Meanwhile, in the 4km male race, 15-year-old Alex Angus finished first in the event with a time of 15 minutes and 30 seconds bringing the bragging rights home with him, beating out his father Damien by 53 seconds.
Alex also went on to secure the 2xRoo Run honour with a combined time of 44 minutes and six seconds over his two races in the 4km and 8km splits.
The women's side was relatively straight forward with Siobhan Sefton annihilating the rest of the pack.
Sefton took home the 4km event in 17 minutes and 21 seconds ahead of Skye Ellis who did it in 18 minutes and 15 seconds.
Sefton then defended her effort in the 8km race in front of Rebecca Henderson, finishing with a time of 31 minutes and 52 seconds.
Her combined times saw her take out the 2xRoo Run category by almost 14 minutes with an overall time of 49 minutes and 14 seconds – a massive achievement for the Queenslander mother of three.
"Just to have that vibe again was really fantastic," race director Mick Collins said.
"Sometimes you go to things and it's just a nice event, but at the Roo Run you can really feel the energy, as well as see some old faces and some new faces.
"People were just super grateful that we had something on and that participants could get out and compete in something special."
To round out the events, in the under 12s Max Fraser (07.23) took out the male Grommets Run and Willa Hyde (08.05) emerged victorious in the female event.
The Great Ocean Road Coast and Parks Authority and the Surf Coast Shire were huge drivers in facilitating the event according to Wes Smith, as well as the event's sponsors.
For the full list of results, head to www.roorun.com.au.