Happiness crucial to home buyers
PRICES, land supply, interest rates and FOMO might be grinding the property market's gears right now but another factor again is colouring sentiment as a growing number of discerning buyers seek more social bang for the buck.
A spokesperson for developer Villawood Properties said that factor is happiness.
Yes, that elusive life goal. Turns out Millennials, even Boomers, are pursuing it with a will in the new 'burbs.
And that happiness is not just about prices, house size or design, even amenity for that matter. It's about people, other people, neighbours, friends, kids, and their playmates.
People to socialise with, to share and grow up or old with, people who'll have your back when it matters.
Villawood boss Rory Costelloe said people need people, especially in new greenfield projects where they arrive knowing no-one but anxious to be part of a safe, and happy, community.
"You don't want to come to a new place and not know who your neighbours are and live a sad life," he said.
"Happiness is the key to the whole thing and you want to be in a healthy happy community.
"Whether you go to Tarneit, Wollert, down to Geelong, or Bendigo or Ballarat, wherever, people are coming from somewhere else to live in a brand-new community.
"They don't know who their neighbours are going to be, they've never met these people before, and they really want to meet people."
Villawood aims to take a multi-layered approach to the issue, starting with a high proportion of owner-occupiers in its projects, actively steering away from investors.
"We try to have 70 per cent owner-occupiers," said Mr Costelloe.
"You know your neighbour's going to be there for a long time, you'll be able to talk to them, share a cup of sugar and just know each other, Your kids can grow up together over a long period of time."
Part of the push to create a sense of community are Villawood's signature clubs, exclusive resort-style hubs with cafes, pools, gyms, function venues, family spaces, sport courts, barbecues, community gardens.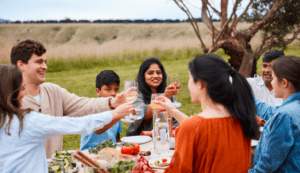 "In the old days, the local focal point was the local church," said Mr Costelloe, who grew up in regional Bendigo, the son of a policeman and teacher.
"That was your bonding place to meet families and all get together and whether you're religious or not is not so relevant.
"The church was just the place where people came gather and met each other in a friendly and safe environment.
"That doesn't happen so much anymore, particularly with traditional Australians."
In some of Villawood's newer communities the developer is building churches and temples, so that sense of community building is still happening.
But for those who are not religious, Villawood have created their clubs where they have pools, gyms, and community centres and parents' lounges and so on.
Mr Costelloe said that these clubs form real melting pots, new community bonds.
"People come along and form new swimming groups, playgroups, walking groups, reading groups, tennis groups, gym groups," he said.
"If you have a common interest, you can meet through their Facebook groups.
"Everyone forms these new little communities and it works really well because people just really want to come in and make new friends."
Villawood also provides land-price discounts for care workers, once again looking to consolidate the attributes brought to the community table by the likes of nurses, teachers, paramedics, police, personal carers, and health workers.
"Our job is to create that real sense of community," said Mr Costelloe.
"Once buyers have chosen where they want to live, from the masterplan, from the precinct structure plan of the whole area, that's where Villawood's MO kicks in.
"In so many ways, it's ticking the boxes of common sense, in property, as often seems the case, common sense isn't always that common.
"People are social animals; they need to interact with others and I think that's the key secret to what we do."