New pooch park opened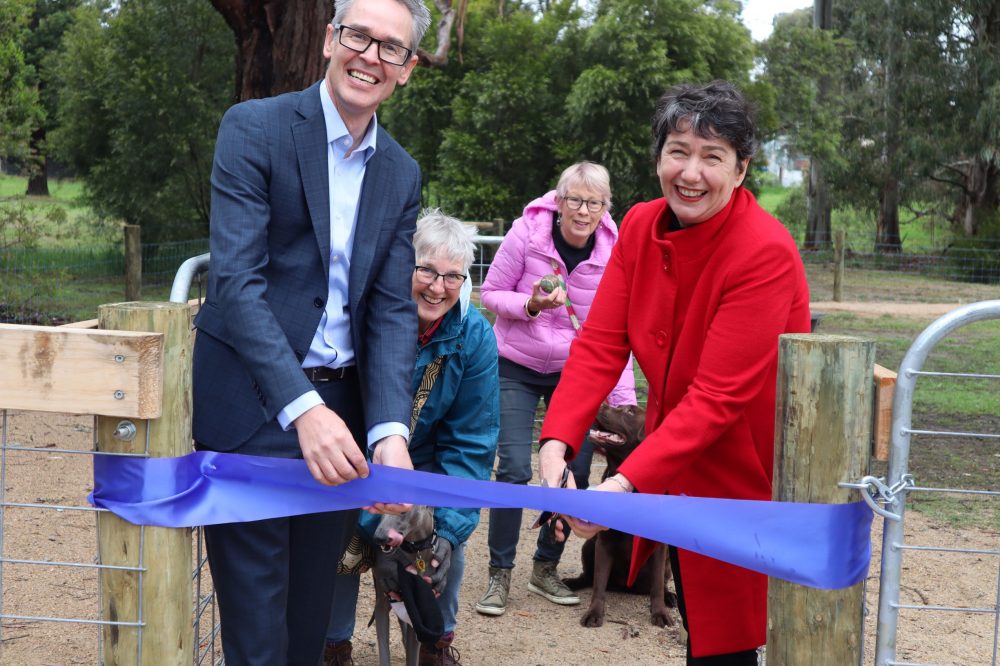 NOW you can let the dogs out at the region's newest off the leash puppy park in Buninyong's James Reserve.
The ribbon was cut on the fully fenced dog park Friday last week and it includes open space for dogs to run, with drinking fountains and seating for owners.
City of Ballarat's Cr Ben Taylor helped open the site
"I'm delighted to be opening this new dog park which will provide all our local dog owners with a great new purpose-built facility to share with their furry friends," he said.
"I am thrilled that the Buninyong Dog Park in James Reserve is now open to provide a safe, fenced off-leash environment for enthusiastic dog owners and their pets in this area."
The Buninyong community initiated the project, which was taken on board by the City in collaboration with the Wathawurrung Traditional Owners Aboriginal Corporation, the Department of Land, Water and Planning, Buninyong Landcare Group and with a $40,000 grant from the State Government.
"I would like to thank the State Government for funding this project through the Building Works package, along with the City of Ballarat staff who consulted with the Buninyong community to project manage and deliver this great new community asset," Mr Taylor said.
"This park will enable social interaction not only between dogs but also their owners, provide a safe environment for people to exercise their pets and allow for community education on responsible pet ownership."
State member for Buninyong Michaela Settle said the park is one of 17 new off-leash dog parks across Victoria, part of a $2.5 million investment from the State Government.
"A good dog park is a place where memories are made, and friendships are forged," she said.
"The new dog park in Buninyong will help dogs and their owners take a break from their usual routine, get some fresh air and enjoy the beautiful surroundings of James Reserve."