Tending to a business in bloom
Phoebe East looks perfectly at home amongst the sea of bright pink flowers she has nurtured to life on the Birregurra quarter-acre plot of land that is her picturesque place of work.
Her straw hat peeks above the petals as she wanders through what will be the last brilliant blooms that remain from the spring-summer season just past.
For Phoebe, the creative and knowledgeable force behind the Alchemilla biodynamic flower farm and floristry studio, winter is the time of year when the hectic pace of running her business, Alchemilla, slows down for a short while.
But rather than simply taking time to smell the roses, the permaculture expert and former Geelong College student is busying herself with promoting the almanac she has published, as well as planning for an upcoming series of online workshops.
The Alchemilla Almanac 2022 – the second she has produced – is a comprehensive but entry level guide to biodynamic and lunar planting.
Beyond the beautiful hard cover is a guide to planting and cultivation according to the lunar cycles throughout the year, featuring seasonal gardening advice, optimum planting windows, tips and tricks and a monthly journal to manage your own garden.
Phoebe adores sharing her knowledge and was motivated to create the kind of resource she had once been looking for herself.
"I've always loved the moon, even since I was a kid, and as I was doing all my study in permaculture I knew about biodynamics but I started coming across it more and more.
"The thing that really fascinated me was the intrinsic connection to the moon and the lunar cycle and how important that is in the practice.
"So I got right into that and really loved it.
"But I found that a lot of the resources were pretty long-winded and a bit esoteric, especially when I was just learning about it – I had to dredge through a lot of content to find what I needed to find."
Phoebe's solution was to bring together the Almanac – a straightforward resource that is great for beginners.
"I think that's why I'm keen to start doing some workshops – to pass on that knowledge in a straightforward way," she says.
Phoebe studied landscape design at The University of Melbourne before finding her passion for permaculture which she studied through Milkwood.
"I realised I really wanted to be outside in the landscape rather than designing it from inside," she says. "So then I went off and did years in permaculture and got all my qualifications in that and was working in food production gardens for a long time.
"Because I was working around food so much, I started working around flowers too because they are part of the growing cycle.
"It kind of just developed from there – it was a pretty smooth transition."
Phoebe, whose childhood was spent growing up on a farm, can't help but give a wry smile at the suggestion she appears to have the idyllic job spending her days surrounded by pretty flowers.
Roses, dahlias, hydrangeas, delphiniums, cosmos and many others are among the flowers she grows for wholesale and retail.
"I think it's like any work, once you do it for a while the magic tends to get worn off a little bit," she says.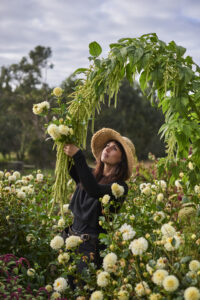 "There's a lot of ideas around flower farming and you see the photos and it does look beautiful but at the same time it is agriculture and it does take a lot of physical labour and time.
"You are constantly living two seasons ahead as well while still managing what's happening every day. Doing everything biodynamically using the rhythm of the lunar cycle really helps me to maintain structure for the planting.
"I find that really helps me as a farmer to keep a handle on the management of everything.
"It's so important that flowers are purchased when they are in season and we use what's in season, rather than imports and flowers that have been grown out of season and forced to flower," she adds.
While flowers won't be available for purchase until the spring-summer season, during those months Phoebe sells her gorgeous blooms at stockists such as Boom Gallery in Newtown, Mortadeli in Torquay and the Queenscliff Grocer.
"It's really accessible, like a $30 bunch of flowers you can grab while doing your groceries," she explains.
So, what is it that makes flowers such a loved addition to any space?
"I think they are such a mix of art and life. It's the perfect blend of nature being able to be brought into the house where it's not too in-your-face but you still get to experience it," she says, eloquently.
"They're just so stunning and they smell so good. I could ramble on forever about them.
"In this time when the cost of living is going through the roof there is something so beautiful about being able to provide for yourself in whatever way that is, whether it's growing some herbs or something else.
"It takes you back to this calm space and you can also ease the pressures of daily life too."
The Alchemilla Almanac 2022 is available to purchase from the Alchemilla website. Seasonal prints of flowers harvested from the farm, as well as open pollinated seeds, are also available from the shop page on the Alchemilla website.
Follow @alchemilla__ on Instagram, @alchemilla_flowerfarm on Tik Tok and sign up to the 'Moon News' newsletter on the Alchemilla website.