FROM THE MAT – January 31, 2019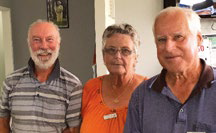 AN extraordinarily hectic summer holiday season comes to an end after club volunteers pulled out all stops to meet the needs of visitors looking for a game of bowls at Anglesea. The added attraction of good food, music and pleasant facilities produced unprecedented use of the club by the community and holiday makers alike.
The resumption of Pennant sees the club still in the running to win a flag.
Geoff Collings, Kaye Kendall and Bruce Davies reshaped the leaders board in the Sovereign Financial Monthly Triples with a win in Round 4. Aggregate leaders are now Keith Hornibrook, Ben Coyle and Terry Hope by a 2 point margin, with the next round to be played on Monday February 25.
The Bendigo Bank Triples for Triers also produced some unexpected results, with Fran Findlay's CrissCross and Paula Fowler's G&T's scoring wins last Thursday in the Red and Blue sections, respectively.
Congratulations to recent social bowls winners: Phil Goudie, Sue Rolls, Neil Buckley, Merle Wapling, Max Horne, Graeme Mathias, Rick Sheehan, John Koster and Graham Marks.
Club volunteers are invited to participate in a review of the recent summer activities to be conducted at 4pm on Friday February 10. This process will help develop the administrative changes necessary for managing new clubrooms and bistro operation.
BOWLS SCHEDULE
Anyone wanting to try bowls is most welcome to contact the Club.
Regular Bowls: Mondays (12.30pm) and Saturdays (1pm). Match is open for entries on the day until 11am by noticeboard entry, phone or email.
Casual Bowls: Open for members anytime; public bookings welcome.
Friday Social: Afternoon Practice. Happy Hour, Raffle, Members Draw and Meals from 5pm.
CONTACT US
Call (03) 5263 1229 (follow the prompts – leave a message), [email protected] or PO Box 52 Anglesea 3230.